Counterfeit Kit Club
LOAD1014
scrapbooking
tutorial
Layout a Day (LOAD1014) - Day Four & Tutorial
10:57 AM
Welcome back to day four of   Layout a Day !  This time around Layout a Day (LOAD) is taking a school themed approach.  This semester we a...
Welcome back to day four of
Layout a Day
! This time around Layout a Day (LOAD) is taking a school themed approach. This semester we are working on "A Yearbook of Your Memories". Today's scrapbooking layout was inspired by measurements, in this case my nephew being "The Quickest Egg Hunter" during our Easter visit to Grandpa and Grandma Bobb's.
I also focused on using some of my
Counterfeit Kit
goodies to create this scrapbooking layout, although I did add in some sequins and my technique for creating faux acrylic words, like those that were included in the original Hey Little Magpie Kit that we counterfeited for October. I cannot believe that I am four days into Layout a Day and my Counterfeit Kit is almost gone! It's crazy. Now I'm regretting not making a larger kit!
The Layout
This was a super simple layout, which is always a struggle for me!
I started with another Simple Scrapper sketch from the Spark magazine (#5), however, it quickly became altered to the point that there is very little of the original sketch left. This month Jennifer Wilson of Simple Scrapper has us focusing on white space, which is another struggle for me because I always want to fill every little bit of my scrapbooking layouts! Another struggle that I had with this layout was trying to keep it masculine with such a feminine kit. I had very little embellishments that were not floral in nature, and I definitely did not want to include those on this layout.
As far as products go, I used a Honey edition Project Life card for my journaling and tucked it under the matted photos. The grey tiled border and photo mat is from Recollections (sold at Michaels) and the striped paper is a multi-colored chevron from Dear Lizzy, which I also matted the bottom photo with. The blue alpha is also Dear Lizzy and the red tile letters are from Nikki Sivils. I fussy cut out the mason jar from another Dear Lizzy paper and thought it played up the bucket that he is carrying around to hold his eggs. I also splattered some Dylusions sprays in a lime green and a yellow in the top left and bottom right corners. Finally, I just tossed around a scattering of bright sequins to help draw your eye around the page. I included a faux acrylic word (like the Heidi Swapp that were in the kit) that I made using puffy paint, a technique I'm still working some of the kinks out of.
Faux Acrylic Word Technique
In honor of the Counterfeit Kit Club moving their "Hey...I can Make That" series to the 4th of the month, I have a really cool technique to share with you. I used puffy paint (that you can find at Walmart) and wrote some words out in a cursive/script writing that I thought would work well with the photos from Easter that I'm currently scrapbooking. I used wax paper as my surface to write on, because I figured it would peel off fairly easy.
The key to this technique is write very thick. The thinner areas of your word or design are much harder to peel off, and may tear or stretch or rip. And patience is definitely required for this technique!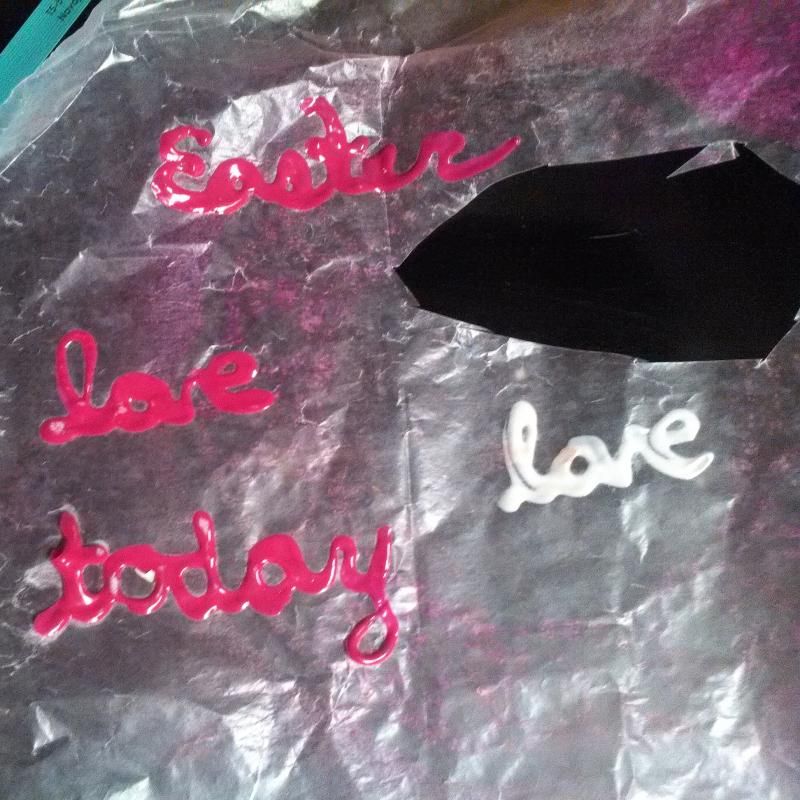 Here you can see the words that I made in this batch, minus the word "happy" that I used on my layout, because it kept sticking to other words. Arg. So I cut it out and then slowly peeled it off the wax paper. As a word of warning, I did have to trim some of the little bits of wax paper that ripped and hung on to the word. Because the puffy paint remains a bit tacky, you have to be careful not to let the letters stick to one another as you peel back the wax paper. Below, you can see a close up of the word on my layout. I adhered happy with some sticky glue dots in a glue runner. The glue dots held very well and did not rip the word at all as I apply them (which I was kind of afraid it might do).
If all of this seems like way too much effort for you, you can also apply the puffy paint directly to your layout or as an outline to your stamping. I did this when I was first playing with puffy paint on my ICAD cards for June. For more information about these direct to paper ways to play with puffy paint check out
ICAD Challenge Week One
.
This Faux Acrylic Word technique is really fun to play with. I intend to keep trying and experimenting with it until it does just what I want from it! There are a lot of ways that you could use this technique to create unique elements to your scrapbooking pages. I would love to hear about any experiments you do with Puffy Paint, so make sure to leave me a comment if you decide to give it a go!