Counterfeit Kit Club
LOAD1014
scrapbooking
Layout a Day - (LOAD) Day Five and Six
7:42 PM
Welcome back to day four of   Layout a Day !  This time around Layout a Day (LOAD) is taking a school themed approach.  This semester we are...
Welcome back to day four of Layout a Day! This time around Layout a Day (LOAD) is taking a school themed approach. This semester we are working on "A Yearbook of Your Memories". For the last two days I have been creating layouts based on relationships. The first layout (Bubble Puppy) highlights a funny quirk with my Dad's dog, Payton, and the second layout highlights my relationship with my sister. I focused on using up my October Counterfeit Kit for both of these layouts.

I know it's been a couple days, but I just returned back to work on Monday from my injury the previous week. I have been so utterly exhausted and in pain, I just haven't been able to sit and blog or scrapbooking a whole lot. But with the weekend coming, I may be able to catch up a little bit. Hopefully! Anyways, onto the layouts!

Bubble Puppy
I have pretty much ran out of 12x12 patterned papers in my kit, and the one I did have I used in the next layout. So I decided to make a fun background with my sprays, and I thought it would be fun to get a little messy!
In order to start my layout, I decided to use a piece of white cardstock and my Dylusion sprays. I picked out a blue and a yellow. I wanted to have "coffee" stains all over the page, because I thought they looked like popped bubbles. Then I added a couple splatters and drips and blobs just for a little bit of different textures.
Once my background was done, I made a page kit from my
Counterfeit Kit
for October. I fussy cut some more things from Dear Lizzy papers, including the banner and mason jars. I also found some Stickopamus bubble stickers from forever ago that were in my stash. I thought these would look really cool in my layers and clusters.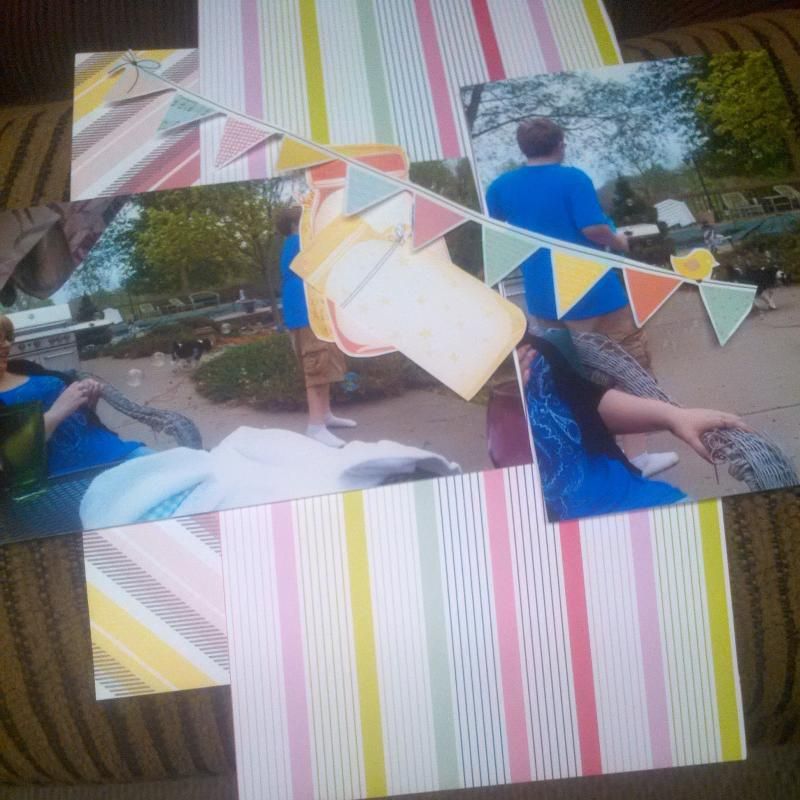 The rest of the supplies on my scrapbooking layout were Dear Lizzy alphas and some blue sequins for a little pop of the blinginess (is that a word?) that I've been incorporating into my layouts lately. I also added some Studio Calico labels (in blue) and also the multicolored pack that I had in my kit. I used a Project Life card from the Honey Edition for my journaling. These photos are of my nephew playing with Dad's dog, Payton. He introduced Payton to bubbles and Payton had a blast chasing them and trying to catch them.
The layout came together pretty quickly. The vertical lined pattern paper was a scrap that I just slapped down and then placed my photos around it. My biggest struggle with this page was keeping it fairly masculine, so I really tried to force on the yellows, reds, and blues that I tend to stay away from when doing the majority of my layouts. I added the date and also Mother's Day on to two Studio Calico labels that I tucked under the right photo and in the bottom left cluster. I knew I wanted these two things noted and they would work perfect in the mason jar clusters. Then I just used the bubbles randomly all the way up the page to symbolize the bubbles floating through the air.
Real Friends
Day six for LOAD focused on relationships. Since I'm trying to get these darn, never ending, Easter photos scrapbooked, I decided to tell a story that I haven't documented yet. My relationship with my sister is a bit complicated to explain. Despite the strangeness involved, we have a very strong relationship and we are always there for each other. In my journaling, I went into detail about all the ways she has helped me in the last few years and how very much I appreciate her!
Again, I decided to use my Counterfeit kit so that my Easter layouts coordinate as a group within my album. I used my last sheet of 12x12 pattern paper from my kit, as well as some fussy cut Dear Lizzy flowers, mason jars and the heart banner. The large chevron paper and green dotted paper were scraps that I wanted to use up and I love how it points to the photo. The REAL friends and anchors are Studio G chipboard stickers that I've been trying to figure out how to use for a while. I really could not think of a single way that I would use anchors, so I am so happy that they made it onto this layout. I also like the symbolize of her being an anchor for me!
I dated the photo on a Studio Calico label and tucked it into the cluster by the photo. I also wrote "I love you sis!" on the different stripes on the chevron piece. I love how that turned out. I used a 4x6 Project Life card from the Honey Edition for my journaling, because I knew I was going to write quite a bit.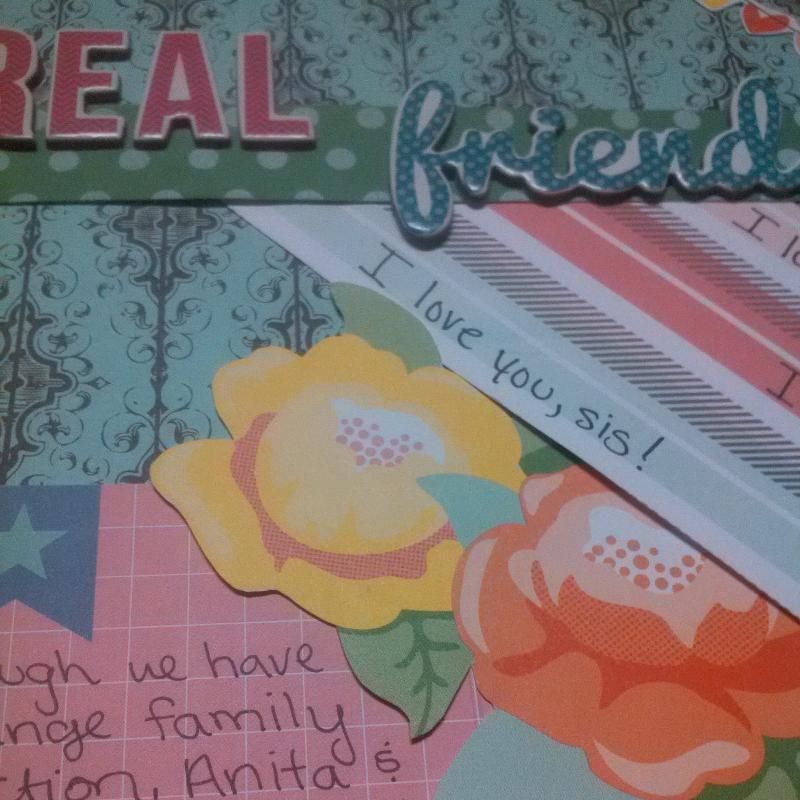 Even though I have fall a bit behind on LOAD, I am so proud of the layouts that I have made so far. And I have almost all of the Easter photos scrapbooked! I cannot believe how long those photos have scared me off from scrapbooking. Check out my previous LOAD layouts and all the Easter photos I've managed to get completed just in the last couple days. For details on our first Easter experience, take a look at Easter Highlights 2014.