ICAD
project life
scrapbooking
Project Life Spread with ICAD Cards - Week Two
10:09 PM
My second round of   Index-Card-a-Day (ICAD)   cards (hosted by Daisy Yellow) were really focused on creating my own Project Life style jour...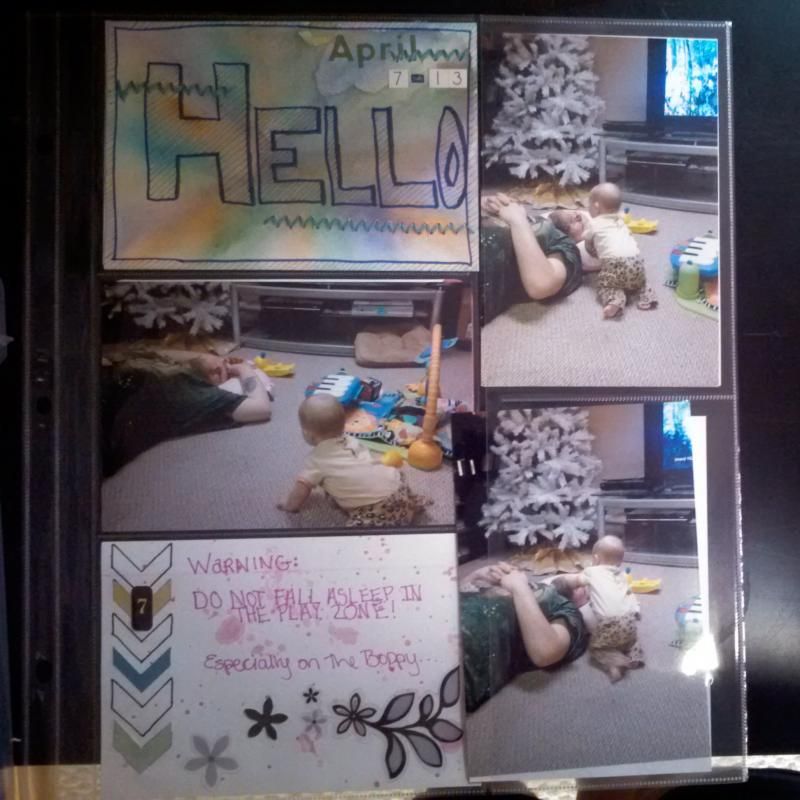 My second round of Index-Card-a-Day (ICAD) cards (hosted by Daisy Yellow) were really focused on creating my own Project Life style journaling cards for my scrapbook albums. This week runs from April 7th to the 13th.


Page One
On the first page of my weekly spread, I have
ICAD card #3
, which I used for the dates that this spread runs. I do not do Project Life traditionally, in that my spreads begin with the first of the month and run until I'm out of photos that go together enough to fill the spread. Generally, my week runs from Monday to Sunday so that my weekends are together, but this is not always the case. In between the weeks, I will also add traditional 12 x 12 scrapbook layouts if something happened that I feel needs to be showcased or if the story is longer than can fit on a small card or label.
This first page focuses on the 7th of April, where Atty found her Daddy asleep on her Boppy and decided to launch an attack! She licked and bit him in her attempt to get him off her pillow. I also used ICAD card #18 so that I could journal a bit of this story (which you will see more details about next week!). I have started to use my July Counterfeit Kit on the layouts from this week, so I used up some scraps from the layouts I posted earlier this week (
Throwback Thursday - Bathtime Bliss
, and
Destash - July
) I will be posting my mega huge (yes, I tried small and it didn't work out that way) July kit, hopefully, on Wednesday. I broke our tablet during our big storm on June 30/July 1st - so I'm not sure if it records still. I tried to do a flip of my #OneBookJuly2014 and it was turned sideways. I don't know if that's user error or just the tablet now only records that way...But I'm going to try to get it working and hopefully have some videos coming soon for you all! Anyway, back to the Project Life spread! I also used a Prima alpha set for my #7 on the ICAD card (18), Heidi Swapp Color Shine Primrose, and some K&Company diecuts to further decorate the Journaling card.
Page Two
This page continues to events from the 7th, which is rather strange that so much happened on a Monday! I used a 4x6 bifold card from the
Honey Edition Core Kit by Becky Higgins
to journal about how Jamie cooked me dinner for most of the week and had to ready when I got in the door, which was so nice! I continued to use my scraps from the
Throwback Thursday - Bathtime Bliss
- layout to create my layers on my photos. I also added some labels from
Studio Calico
(used on the photo of my daughter climbing to the second shelf of our built-in) and from
Jillibean Soup
(journaling about my daughter's love of playing chase). In addition, I added in some clusters of Studio G purple gems, because I love them and they have to go on everything. :)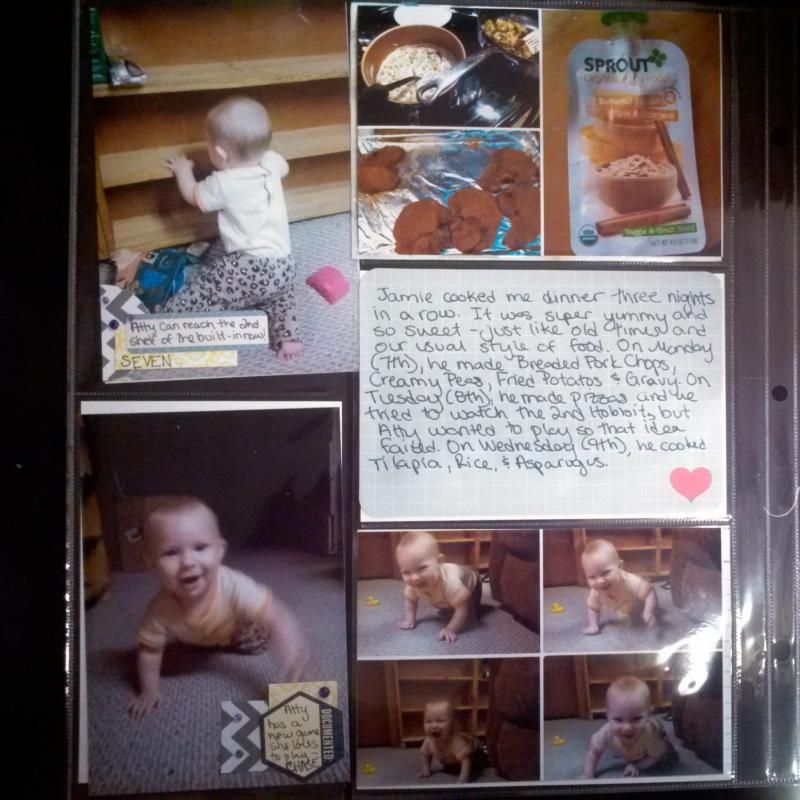 Page Three
This page is all about my daughter playing with her giant monkey. She loves to give it kisses and then try to tackle it to the ground. This was also the first time she got to play with her wooden blocks. And then on the 9th, we watched Frozen and she loved all of the music. She's such a music girl! Again, I have tried to use my scraps from the Throwback Thursday layout on this page. I continued to use the Prima alpha sheet for my number 8 and
Jillibean Soup Forget Hexies labels
for my journaling - love that hexagon shape label! I also added in one of the #9s from the
Dear Lizzy Alpha - Soiree - Thickers
that I used on the
Throwback Thursday - Bathtime Bliss
layout.
Page Four
This is the final page for my weekly spread. This page mainly talks about my Friday evening (which is my late day to work) and how Jamie brought Atty up to spend my lunch break with me. I included a photo of the sky when I got off work, and then two photos in a collage that Jamie sent me while I was at work of Atty climbing over her playgym. I used
ICAD #13
for my journaling card and added some of the chevron scraps, a 3x4 journaling card from the
Honey Edition Core Kit by Becky Higgins
, and some more of those Prima alpha stickers and Studio G purple gems. I also added another of the
Studio Calico
blue labels to the sky photo. The second half of the page talks about our Saturday morning trip to Deerfield, where Atty had her first pancake - and she loved it! She is quite the pancake addict now! For the journaling card, I used another of the 4x6 bifold Honey Edition Core Kit cards, Prima alphas, Studio G purple gems, and some more of the diecuts from the K&Company pack.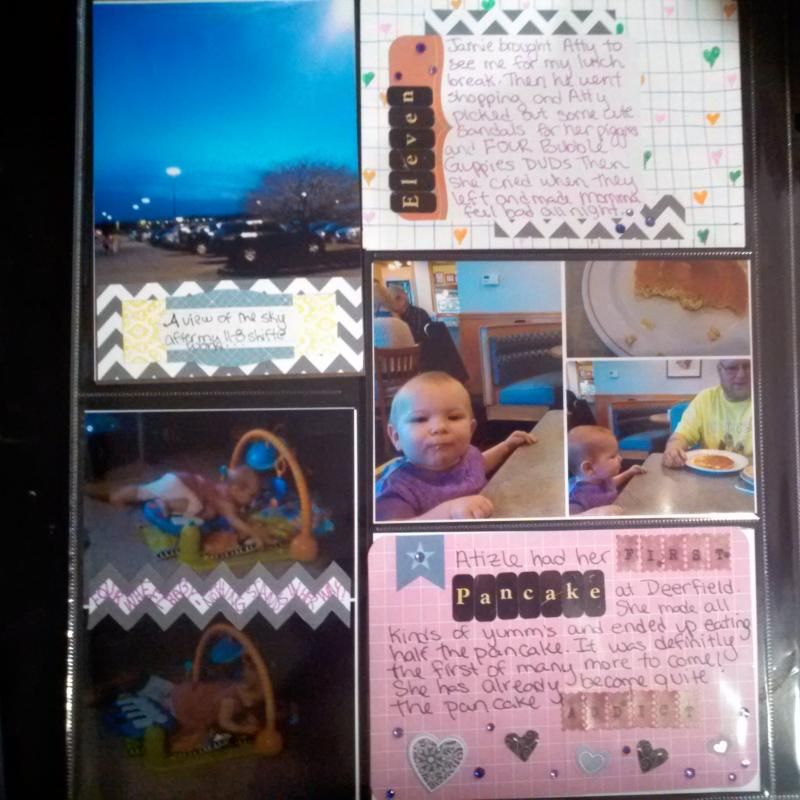 I loved using my ICAD cards to complete this spread, it came together super easy, and I was still able to feel creative since I had personally made these lovely cards. Check back next week for ICAD week three cards, as well as another scrapbooking installment of how I am using my ICAD cards!