destash project
scrapbooking
video
Cuddle Buds
12:00 AM
Today I'm back with another installment about my stash kit that I created using the Hip Kit Club's May 2015 kit as inspiration ...
Today I'm back with another installment about my stash kit that I created using the
Hip Kit Club's May 2015 kit
as inspiration to draw from. I'm sharing a scrapbook layout that I created using a photo of my daughter and me from back in January. I really wanted to dig into my pattern papers for this layout and play with some fun embellishments. I love the addition of the cork on this layout. It is such an interesting texture to include on scrapbooking pages.
I am really struggling with creating 8.5 x 11 pages. This year I decided that was the size I would use to document our story for 2015, because it would be an easier size for my daughter to handle when she wants to look through the albums. But I don't like that I cannot get as many pictures on a page as I have gotten used to.
I used a 4x6 photo on this page. The story is all about our visit to a friend's house, where we got to cuddle with their cute dog, J.J. He always loved getting tummy rubs and cuddles from us, because he is always cold. He could sit for hours on our laps if we'd let him! Plus, J.J. is the perfect size of Atty to really love on!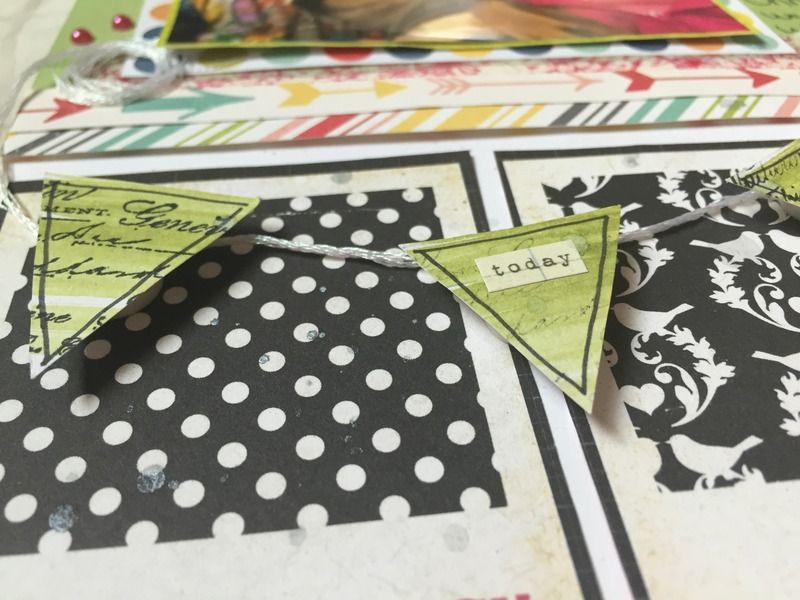 I also used these DIY embellishments that I made to go along with the kit. For this banner piece, I simply stamped using black Archival ink, drew some triangles, watercolored the sections, and then fussy cut them out. I used some pop dots to add a little bit of dimension to the banner, as well as a Studio Calico word sticker on the middle one.
I hope this layout inspires you to create something wonderful from your own stash! For more information on the products used on this layout, check out the
original stash kit post
. I also made a
scrapbooking process video
so you can see how this layout came together.