destash project
projects
scrapbooking
7 Scrapbooking Successes Due to Stash Bash
7:45 PM
The first challenge create a layout - easy!       The Stash Bash Challenge Two weeks ago (Sept. 17 - 21) I participated in the Stash B...
The first challenge create a layout - easy!
The Stash Bash Challenge
Two weeks ago (Sept. 17 - 21) I participated in the
Stash Bash challenge
hosted by
Simple Scrapper
(Jennifer Wilson). Stash Bash is all about organizing, purging, and then using your scrapbooking products. This class could not have come at a better time for me, because I am in a fullblown organizing mode. I want to get my computers in order and the photos on them backed up to CDs and printed! I'm also trying to get our space a bit more 1 year old friendly (which means the stuff that we've just moved up as she's grown needs to be put somewhere more secure where Momma can still use it!). So with all of this in mind, I decided Stash Bash was for me!
My Scrapbooking Spaces
My bedroom space before Stash Bash
I have three spaces that I consider my "scrapbooking area". There is my desk in our bedroom, which I am trying to decide if it will be my computer area (and GTD/planning area) or a video recording area (to replace the current one that I struggle to use). There is a workstation in the living room that I use to stand and create the vast majority of my scrapbooking layouts. This area quickly piles up, because I'm often working on stuff here while my daughter is awake (so I have to chase her around frequently). There is also a storage cabinet in this area that I use to store my paper, stickers, and new purchases. Finally, I have a recording area shoved into a little corner of a storage closet. The lighting is not the greatest and I have very little room to maneuver. In an attempt to win a free spot in Stash Bash, I put together a pre-Stash Bash video tour of my current creative spaces. And they were a hot, hot, hot mess! I haven't been able to scrapbook or do videos or anything really creative in months!!
Digital Photo Organization
This is a look at my folder structure before Stash Bash
I really wanted to focus on my computer and digital photos for this challenge. My folder structures were a hot mess, as I just tend to dump everything into my downloads folders. The only thing that I try to keep organized is my photos, especially since I started Project Life. So I have year and week folders for all of my photos for the last two years. There are four years worth of photos on the computer that I decided to work on, so 2011 and 2012 are not organized by weeks. I don't have very many photos from these years, because I wasn't very good about getting the photos off my phone back then! Through Stash Bash, I was able to delete a ton off the computer that I no longer needed, as well as cleaning up my folder structure. I also separated out blog stuff and, using an idea of GTD, created folders for my current resumes and current projects with an ! in the front. The special character (!) keeps it at the top for me, which makes it easier to keep track of these things.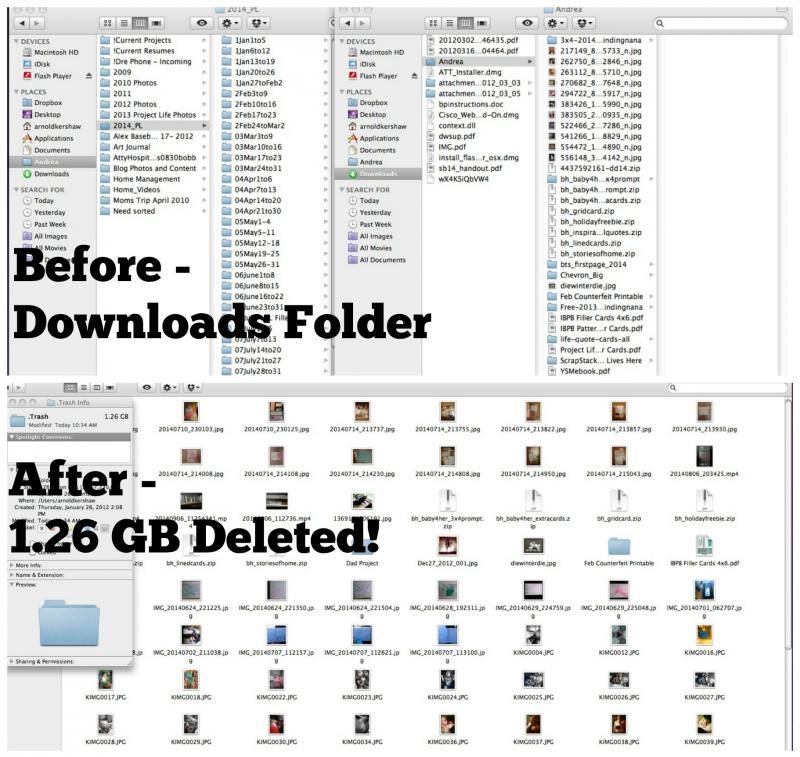 This is one from one of the challenges where I deleted 1.26 GB from just my Downloads folder!
I also started to work on tagging my photos in iPhoto to make them easier to find when I am looking for specific stories or photos. This would have been awesome to have done before I started the process of printing photos for Atty's baby book. I also think it will be nice for Christmas gifts to have a better way to find photos quickly. Now I just need to continue tagging my (3000+!!) photos with the new tagging structure that I decided on.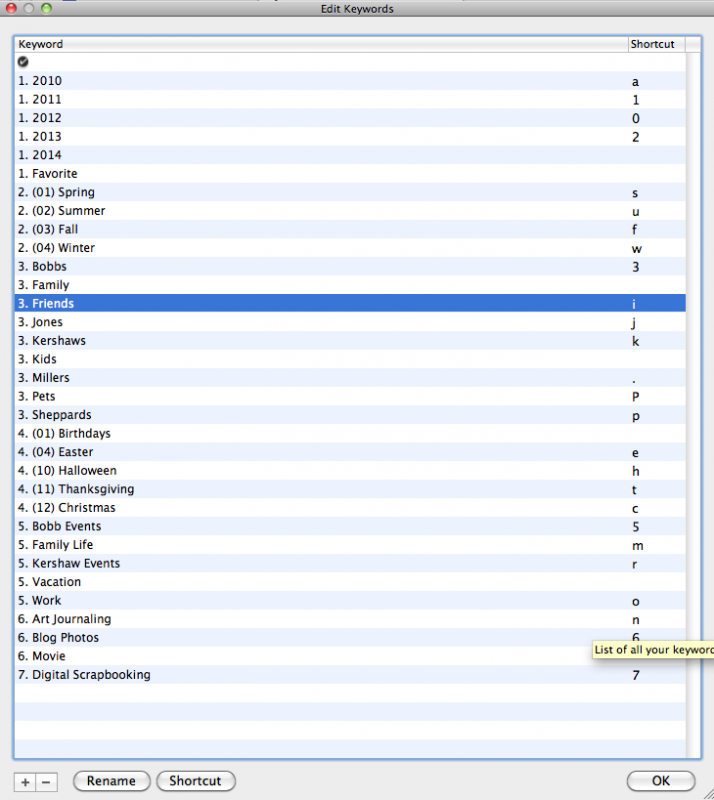 A glimpse at my current tagging structure. Separated into categories (year/season/people/holidays/location/other photos)
Creating Layouts
Another challenge that I enjoyed working on was the "Bake Sale", where you make pagekits for 5 layouts in a certain amount of time. I decided to work on some of the Easter photos that I have been procrastinating on and I love how these layouts turned out. What I love even more is that these layouts are finally done. I have been stuck on Easter photos and trying to decide what to do with them for almost 5 months! 5 Months and I haven't been able to move past these darn photos!
*Details under each photo - collage of kit then layout final
1st Easter
For 1st Easter, I used some dylusion pink and Heidi Swapp pink sprays to give it a soft, shimmery effect on the doilie. Plus I used a really old paper pieced flower basket from my stash and that cute little stick girl stickers from ages ago!
Dyeing Easter Eggs (left)




This page uses products that I specifically bought to scrap these Easter photos. I thought this watercolor wash paper worked perfectly for the process of dyeing eggs, and I also used a diagonal of clear sparkley buttons to draw your to the photos. I also fussy cut some Easter eggs from a piece of patterned paper that I used for some accents on these two pages.
Dyeing Easter Eggs (right)
I did most of my journaling on this side of the spread to tell about Atty's first experience with dyeing Easter eggs. I also used a really, really old shaker egg that I received in a swap years and years ago.
Left side of "Decorating Lil Monsters"
For this set of layouts I had some very large photos that I wanted to really focus on, so I kept the embellishments very simple. I used another one of those stick figures from ages past, as well as some really old egg stickers.
Right side of "Decorating Lil Monsters"
For this layout I really just played with layering pattern paper and border stickers. I finished using up that sheet of old egg stickers and lots of fun little rhinestone gems.
Also during Stash Bash I was able to finally put away my stack of completed layouts - 73 of them!! Most of these layouts were from Layout a Day in May. Some of them needed journaling and such done on them, but for right now, I just decided to put them in the album. With LOAD starting Oct 1st (!!!), I can't have this huge stack of layouts just hanging out!
Tickets, Tickets, I want Tickets!
I loved this experience. Stash Bash was awesome, the community was awesome, and the challenges and format of the challenge worked wonderfully. I wish I would have been more motivated to tackle some of the details of my spaces, but I decided to put most of my effort into the computer, photos, and digital realm. I would highly recommend Stash Bash to anyone. And, I think I might make a ticket bucket to continue with the incentive of the tickets for prizes. I earned 30 tickets through this process, and barely dented my stash or organizing projects that I would like to continue. Maybe 50 tickets and I get to go buy some new scrapbooking supplies or a class or something....I'm still debating on what kind of incentive would work for me! I'd love to heard any thoughts you may have on my progress, I'm still pretty amazed at how much I was able to accomplish in 5 days.