ICAD
project life
scrapbooking
Index-Card-A-Day (ICAD) Challenge - Week 5
8:11 PM
Today, I want to show you my cards for the 2014 Index-Card-A-Day (ICAD) Challenge hosted by Daisy Yellow The challenge is basical...
Today, I want to show you my cards for the 2014 Index-Card-A-Day (ICAD) Challenge hosted by

The challenge is basically to decorate and play with 4x6 index cards, however you desire. I am using my cards this year in my Project Life spreads for my scrapbooking albums (focusing mainly on April and May of 2014, since I am behind).
For more information on the challenge check out
Daisy Yellow's ICAD
section. I have not a clue what this week's theme was because I am insanely behind on the challenge, but I'm not letting that bother me! As long as I play and work on my cards when I have a couple moments, I'm allowing myself to live with that. This week, I needed some quick and simple that I could work on while Atty was awake, so I decided to create some doodles with my black uniball pen and then I practiced some shading and coloring with my colored pencils. I don't normally use my colored pencils for anything, but with back to school time just around the corner I rarely resisting buying new ones! Instead of buying new ones this year, I told myself I needed to play with the ones I already had. Ive never really worked much with color pencils and struggle with shading anyway, so I figured id play with them and see what I learned through experimenting. If you have any tips I would love to hear them!
Day 29
For this card, I used the Uniball pen to doodle a couple of my favorite kinds of borders to create a 4x6 journaling card. I added pink and blue colored pencil to highlight the border sections.
Day 30
On this card, I created a doodle of a baby giraffe with my uniball pen and used yellow and orange colored pencils for shading. I knew I wanted something for my Project Life spread, since I didn't have much time to embellish the pages. When I created this little guy, I knew it would be perfect!
Day 31
For this card, I created a doodle of clouds with my Uniball pen and used the colored pencils for shading the sky. I love how this one screams a lovely summer day to me. Those puffy clouds make me so happy!
Day 32
On this card, I used Uniball pen to create a doodle of raindrops. I went back in a shaded the raindrops with blue and light grey, which I think turned out quite nice. Then I added some color patches to the sky background. I love how the woodgrain from the table I was working on created a diagonal that looks like rain (to me anyway).
Day 33
On this card, I simply used my uniball pen and colored pencils to create two mandalas and a journaling spot on this 4x6 card. I didn't worry too much about shading, just used the colors that called to me as a color story.
Day 34
For this card, I used my uniball pen and various colored pencil to create a rainbow sunburst in an attempt to practice my shading. Each section, I attempted to shade it in a different way/technique so that I could figure out what worked best for me.
Day 35
This card is a journaling card for my project life spread that I am working on for this week. I just used an uniball pen, and green and yellow colored pencils to tie the color scheme together for the spread. I was practicing and trying to figure out this blending thing (something I'm horrible at).
Project Life Spread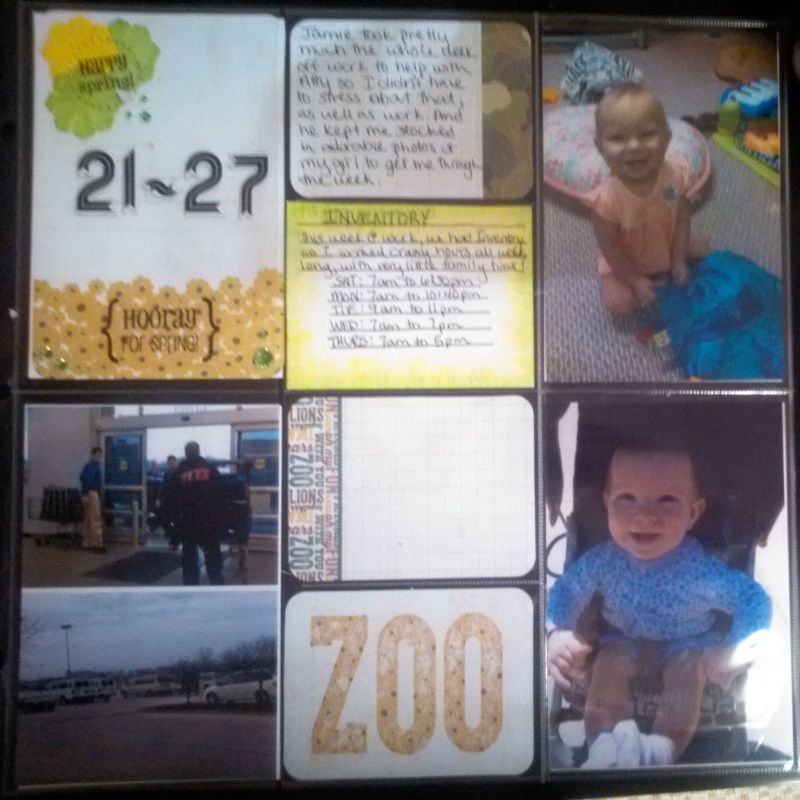 This is how the cards came to together to create my Project Life spread for April 21 - 27. This was the week of our Inventory at work, hence an utter lack of photos from the week. I worked 55 hours in this one week, so this first page mainly talks about that and how we made it through. But Jamie kept me stocked up on pictures of the happenings at home and the Friday after we took our first trip to the zoo! The title card is ICAD #7 from
ICAD Week One
, and the 2nd from the top is ICAD #35 from this week.
On the backside, I have included photos our zoo trip, along with some journaling cards from the Becky Higgins Zoo mini kit (which I bought specifically for this trip). The top 4x3 card is how ICAD #30 came out as a finished product. The rest of the spread was super simple and I just used the journaling cards to write about the adventure of Atty's first trip to the zoo!
I am loving the creation process of doing these cards even if it's not every day (though I do try to make or start one every day), and it has been making my project life spreads come together so easy. If you're interested in the rest of my ICAD cards you can check out all of my ICAD posts so far!