This week I wanted to focus on using up my scraps from papers that I have cut into so far. I was inspired by two of the three Counterfeit Kit Club Challenges for this month. The first challenge was Triangles, and the second challenge was to create a layout where you combined three different techniques. Once again, I have created three layouts to show you this week. All of the products used for this Destash Project are part of my July Counterfeit kit. I also have a Pinterest board where you can check out the supplies that I have been using.


Triangles - Insert Pancake Here ->
This is a layout all about my daughter's fasincation with pancakes. She absolutely, positively, utterly loves and adores them! These photos all come from my birthday, when we went out to breakfast and she got a pancake and applesauce. When I started this layout, I was in love with how Lisa did her triangles for her layout
A Typical Summer
. However, when I started working on creating triangles for my page, I hated it. I mean really, really hated it. But I cut some in a variety of sizes and patterns and worked on it until it was "meh okay, let's move on." Once I added the embellishments it really grew on me. I love Lisa's so much more, but mine makes me smile too :)
I started with the piece of Studio Calico from the Snippets line (the black and white chevron). I knew I wanted to use up the whole piece, but it was too small to mat a photo with so I decided to use it as a place to build up from. I matted the vertical photo with a scrap of Recollections Pink tiles and used some more for the some of the triangles. I also used some of the Jillibean Chicken Dumpling Soup stripe paper to create triangles, as well as the green grid that is also from Studio Calico's Snippets line. Then I just layered up some of the Studio G chipboard diecuts and some Studio G pink gems. I added some yellow, green, and I think the pink Dylusions sprays in splatters around the page to add some interest. For the title, I used the Basic Grey Paper Cottage in the polka dot and black. Once again, I outlined the polka dot letters, because they got a bit lost in the grid. For this layout I used a total of 5 sheets of paper, and completely used up two of them (the cardstock Bazzil background and the chevron).
Three Techniques - 1st Outside Play Time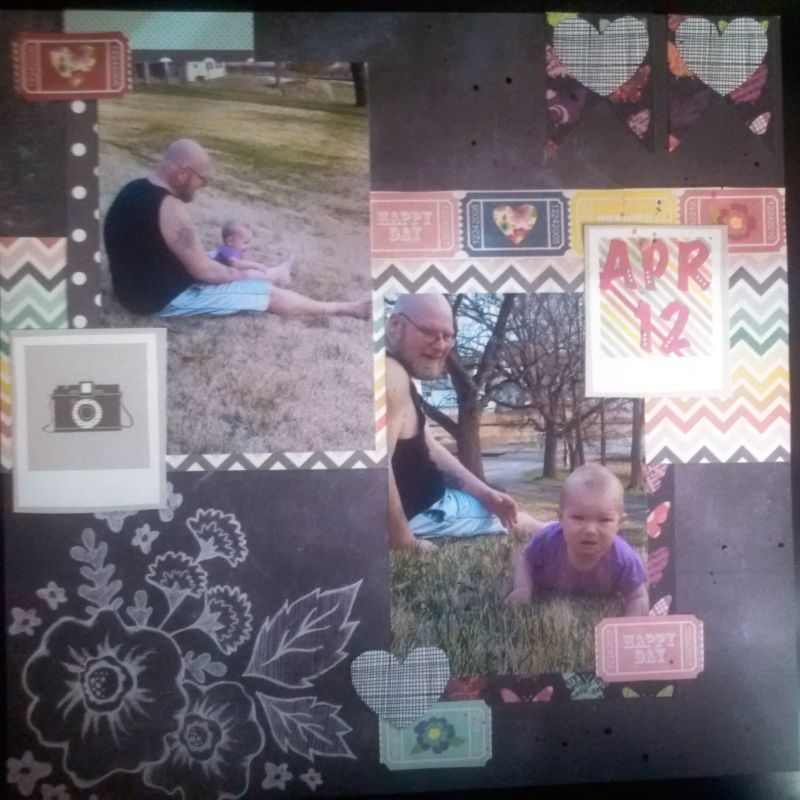 This is actually a two page spread that I completed using this challenge. I had three really adorable photos of my daughter from the first time that she actually got to go outside and sit and experience the grass and outdoors. My three techniques that I used were layering, fussy cutting, and splattering mist (Black and Bubblegum Pink Dylusions). This page is the left side of the spread. I used the We R Memory Keepers Chalkboard collection (the paper is called Blackboard). I thought the chalked flower went really well with the whole outside experience.
My daughter was so funny, she was perfectly fine sitting in my lap or Jamie's. But she wanted nothing to do with crawling on the grass (hence her crying as she crawled to me in the photo above). I also used a piece of Dear Lizzy Polka Dot Party to mat part of the left photo, and I cut a strip of the Pebbles From Me to You chevron paper to run across the layout. The multicolored butterfly paper that I used to mat part of the right photo is from Recollections, and I also used a chunk of it to create the banners in the top right. I cut out two of the Dear Lizzy Neapolitan Polaroids and used one as a place for my date with Nikki Sivils letter stickers. Finally, I used the Echo Park Beautiful Life Tickets as a border, as well as some fussy cutting for layering elements. The hearts are fussy cut from some Amy Tangerine paper, as well.
This is the right side of the spread, and I used a Pink Paislee paper (again with the floral element) called Spring Jubilee. Again, I used the Pebbles as a strip across the page, the Polaroids for clustering/layering bits, the Polka Dot Part as part of my mat, the butterflies as part of my photo mat, and the tickets and hearts for layering and clustering. The alphas are Nikki Sivils mixed with Dear Lizzy Soiree.
I really love how these two pages came together! For this spread, I used 8 sheets of paper and completely used up 4 sheets (Dear Lizzy Polka Dot Party, Dear Lizzy Polaroids, We R Memory Keepers Chalkboard, and Pink Paislee).
I am really enjoying this challenge! I used up another 6 sheets of paper this week. This brings my total of paper used to 17 sheets of paper completely gone from my stash so far this month! Check back next week, when I'm going to kill this kit (one way or another) and stay tuned - I've got some more fun ideas that I'm working on for August as well!