ICAD
life
project life
scrapbooking
Project Life Spread with ICAD Cards
2:28 PM
My first round of Index-Card-a-Day (ICAD) cards (hosted by Daisy Yellow) were really focused on creating my own Project Life style journali...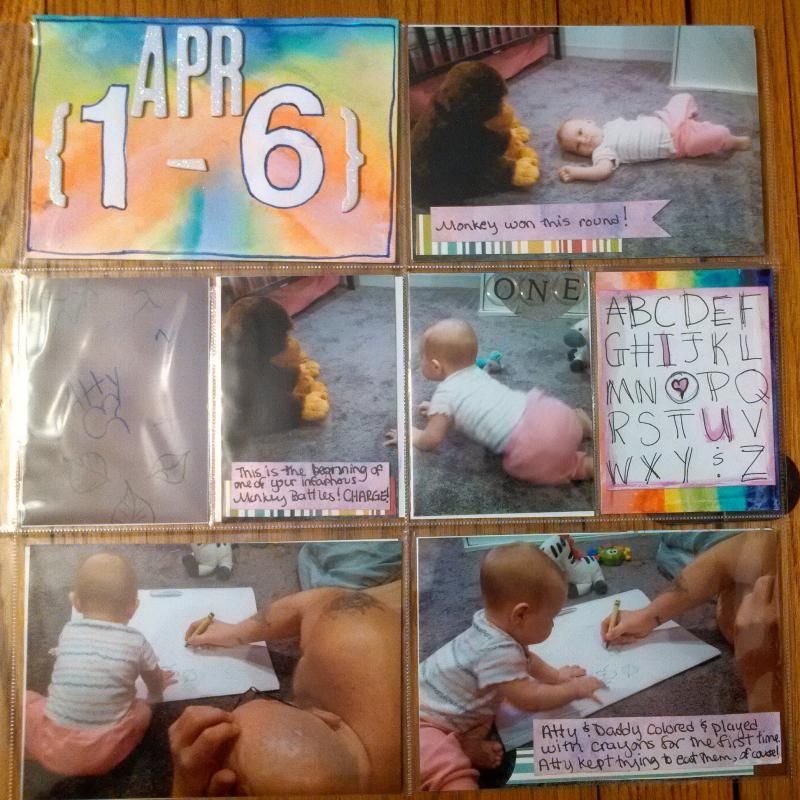 My first round of Index-Card-a-Day (ICAD) cards (hosted by Daisy Yellow) were really focused on creating my own Project Life style journaling cards for my scrapbook albums. Since many of them had a rainbow watercolor effect, I decided they would work perfectly for my first April spread for 2014. This week runs from April 1 to the 6th.



Page One
On the first page of my weekly spread, I have ICAD card #1, which I used for the dates that this spread runs. I do not do Project Life traditionally, in that my spreads begin with the first of the month and run until I'm out of photos that go together enough to fill the spread. Generally, my week run from Monday to Sunday so that my weeks are together, but this is not always the case. In between the weeks, I will also add traditional 12 x 12 scrapbook layouts if something happened that I feel needs to be showcased or if the story is longer than can fit on a small card or label.
This first page focuses on the 1st of April, where Atty wrestled with her giant monkey and also had her first coloring experience with Daddy. I also used ICAD card #9 as a filler for this page (which you will see more details about next week!). I have continued to use my
April Counterfeit Kit
to finish up these pages - here you can see the Bubble-a-bilities letter stickers that date the page, since all of the photos are from the first. I also used a Simple Stories Daily Grind patterned paper to layer with my watercolored journaling labels.
Page Two
Since I work full-time throughout the week, most of our weekly spreads are things that happened on the weekend with a bit of filler from the actual weekdays. This page showcases what we had for dinner one evening, Atty's first taste of toast (which she loved), the last time she would take a bottle, an ER trip with Jamie, and then a couple photos of our visit to Grandma and Grandpa Bobb's.
Some of the supplies that I used for this page were Simple Stories Homespun 6x6 pad for the house with the heart and the Our Family cut aparts. I used October Afternoon Daily Flash alpha stickers for most of the dating throughout the page. The journaling card that tells about our ER visit is from October Afternoon Woodland Park (?), I believe. It was in my
April Counterfeit Kit
, anyway. The frame that I used around the heart house is from my stash, the grey paper that I punched with a 1.5" circle punch is from the April Counterfeit Kit, and the journaling label is from Teresa Collins Stationary Noted Diecut Accessories sheet, which was not in my April Kit. The two 3x4 journaling cards in the middle of the page are my ICAD cards #10 and #11, which you will see next week with more details. :) Finally, the Memories card is from the Becky Higgins Project Life Home Mini kit that I included in my April Counterfeit kit.
Page Three
This page is another weekend view of Sunday, April 6th, when we went to visit Grandpa and Grandma Bobb. Very photo heavy day and all the journaling is summed up into the one 4x6 journaling card.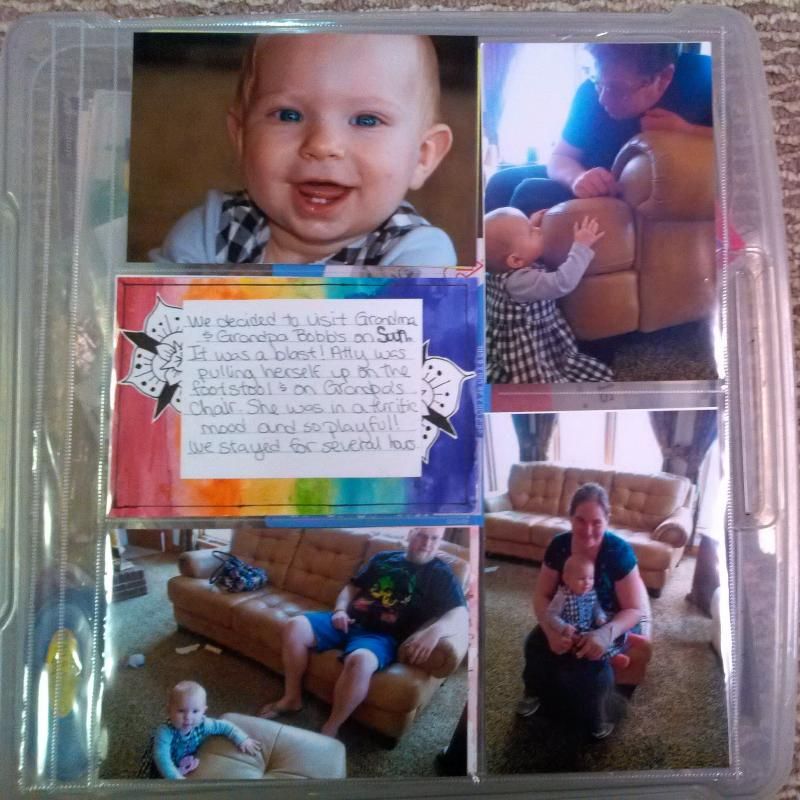 The only supplies that I used for this page was my ICAD card #8, which you will see in more detail next week! The journaling is about how Atty is pulling herself up on EVERYTHING and pretty much a summary of the visit.
Page Four
This is the final page for my weekly spread. Again, it is a very photo heavy page, with one 4x6 journaling card about Atty showing off her mobility skills to her Grandparents, as well as the sensory experiences that this visit allowed her to have - such as feeling the differences between carpet, hardwood, rug, windows, etc.
I loved using my ICAD cards to complete this spread, plus it added some inspiration for week two cards, as I was trying to fill in the gaps. It came together super easy, and I was still able to feel creative since I had personally made these lovely cards. Check back next week for ICAD week two cards, as well as another scrapbooking installment of how I am using my ICAD cards!