I am doing December Daily. Yes! I am! I will! This is the year it will happen....or else!! The theme of the month is Joy Damn It Joy! :) Just ask anyone who knows me. (It's been a rough couple of months and we really do need to focus on joy this month, I'm not crazy...)
So I had every intention of prepping pages and getting my December Daily all set up so I could just fill it in as I went. Well that was a fail. Not quite an epic fail, but pretty darn close. I have the supplies I intend to use. And I have a loose version of a plan. And I have inspiration that I am following. So I'm good - as long as time doesn't get away from me and the darling 3 month old lets me work on it every night....
The supplies I am using come from a mix of stash items - I've been trying to do December Daily for THREE YEARS now! So I have quite a bit of Christmas goodies to use. I'm focusing on using a My Minds Eye 12 x 12 pad of paper, as well as a 6x6 Pink Paislee pad. I'll try to let you know what products I am using as I go, but if you have questions just ask!
Anyway! On to day one. I am doing
Rhomany's Christmas Chronicles
as my December Daily inspiration for journaling, planning, and prompts. Check it out - because Rho is awesome and amazing.
And I am having printer issues so instead of showing the page completed, you get to see the pieces for today (and hopefully we'll figure out the printer issue soon).
I'm including
this calendar
as part of my day one so that I can plan out my month including parties, special Santa events, birthdays, and other things we're doing along with my work schedule.
I also used Kathy Orta's
December Daily Two videos
which are using envelopes and cards to make the pages for my day one layout.
This is the first "page" with a little flag banner flip thing. I still need to decorate once I get the photos printed. The red dot paper is from the My Mind's Eye pad. The photo for this page will be of my mom cooking and preparing our Thanksgiving dinner which we had on December 1st, because I had to work on Thanksgiving. *Photo not included for her benefit ;)
This is the inside of the first "page". Again it has a little flip thing that I corner punched with a decorative punch on the left side and the right side of the page is a pocket. Again, the red dot paper is from My Mind's Eye and I think the stripe is from my stash, but I will try to find out who makes it when I get a minute.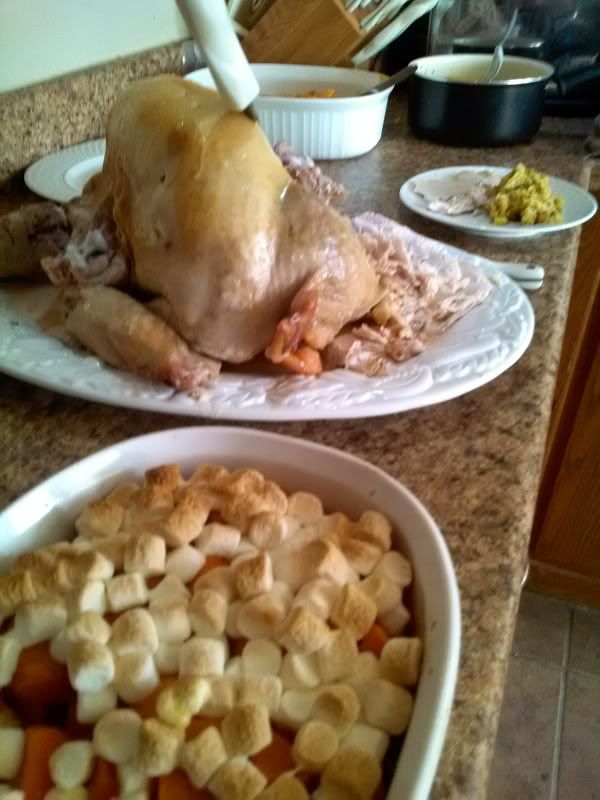 This is our spread of food - Turkey, Sweet Potatoes and Marshmellows, Stuffing, and Cheesy Veggies - YUM! This photo will be on the left hand page.
Plus a close up of my plate, this photo will be on the pocket page along with journaling about our Thanksgiving dinner.
This is the backside of my first "page". It flips opens to reveal the last page. I'm going to include a picture of my cutie pie in her new sleeper that we got from left over Black "Friday" sales at Walmart ($4.00 for the sleeper - woot). The green paper is from the My Mind's Eye pad.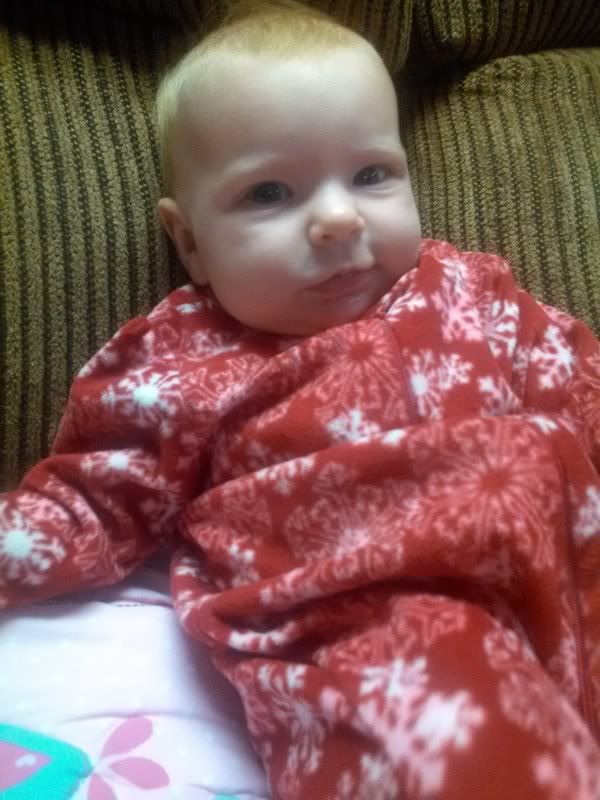 Isn't she just adorable :)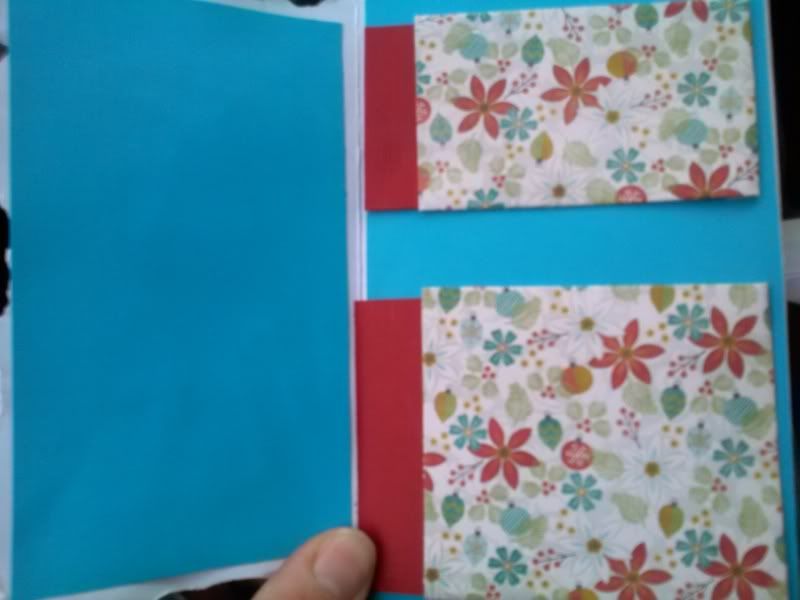 This is the last section of my first "page". The flower print is from the Pink Paislee collection. I have a cute picture of Atty and her Daddy, which will go on the left hand side *picture not included for HIS benefit. Inside the two pockets will be the pictures/DVD covers of the two Christmas movies we watched - Elf and Pete's Christmas. Sorry - I love my cheesy Christmas movies, and make Jamie suffer through them with me.
So that's it so far. Hopefully my printer will decide to behave so that I can print as I go. Let me know what you think so far, and if you are doing a December Daily, Journal Your Christmas, or some other Christmas project this month! I'll be back tomorrow for Day 2!