project life
scrapbooking
video
Project Life 2016 Process and Plans
6:00 AM
Whew!  I cannot believe it is already April!  I just finally finished my December Daily album with the help of Calvinball at Get It Scra...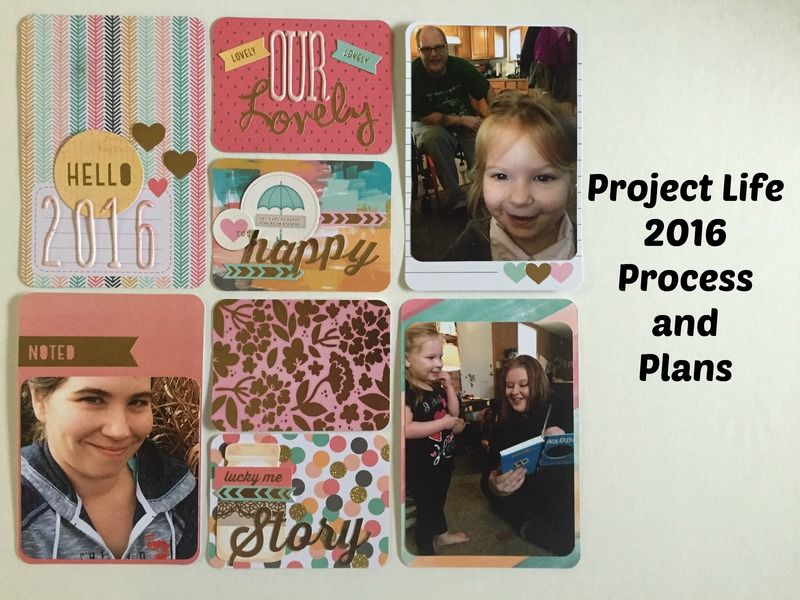 Whew! I cannot believe it is already April! I just finally finished my December Daily album with the help of
Calvinball
at
Get It Scrapped
last month. I feel like I can finally start to work on my 2016 Project Life scrapbook album now, without having yet another unfinished project looming over my head! Today, I'm offering a glimpse into my Project Life process and my plans for 2016.
Last year in 2015, I really struggled with documenting our year. I had decided on using an 8.5x11 album, because it would be easier for my young daughter to handle. However, the size of the album turned into a huge stumbling block for me in creating the layouts and documenting our lives. I couldn't fit enough pictures on a page, and I couldn't find pocket page protectors that worked with complications. All of this pretty much defeated the ideas of ease and simplicity that Project Life generally highlights. This is probably why I focused on working on my 2015 album last month for my
Calvinball
project and I still only got up to April completed!
2016 Project Life Plans
This year, I'm returning to my previous Project Life methods. I will be working with the 12x12 size Project Life album (
Cinnamon edition
). I will be working on my album in a monthly manner instead of the typical weekly spreads. This is how I've done Project Life for the last 3 years, and it just seems to work the best for me to let the flow of the photos guide me rather than worrying about what weeks the photos coordinate with. This method also allows me to pull the larger stories out and create full layouts, which I intermix with the pocket pages to better tell our 2016 story.
Intentions for 2016
I really love this memory keeping project - despite never having completed a full year! One thing I definitely want to make sure I include in these pages for 2016 is more of my art projects, trials, and experiments. I also want to include more of the learning activities that we do with Atty to document that aspect of our lives better than in the past. Lastly, I'm including my
word of the year
(Focus) in my album this year. Ideally, I want to do at least a page every month to honor it's impact on my year so far.
Title Page for 2016
I switched things up immediately for 2016 with my title page. Instead of using a traditional
Design A page protector
(4 horizontal 4x6 spots and 4 vertical 3x4 spots), I opted for a
Design D
(4 vertical 6x4 spots and 4 horizontal 4x3 spots). I picked some of my favorite photos of our family so far in 2016, and made sure everyone was represented. The products that I used were the new Becky Higgins Project Life kits -
Lucky Charm
(value kit) and
Be Bright
(themed kit).
How are you approaching your memory keeping for 2016? Are you using Project Life or a different style for this year? Let me know in the comments below!