Counterfeit Kit Club
scrapbooking
January Counterfeit Kit
12:00 AM
I'm way late on getting this together and posted (especially since they just released their February kit today!).  However, I've had...
I'm way late on getting this together and posted (especially since they just released their February kit today!). However, I've had very little time to play lately so I'm still working on using my January kit. I'll show some of the cool stuff I've done with it in another post later this week or so. For January the Counterfeit Kit Club decided to use the December Kit by Hip Kit. Due to my new method of memory keeping (as well as really trying to save on budget areas), I used a lot of Dear Lizzy and Amy Tangerine papers from the $5 packs that I purchased from Michaels forever ago. I also decided to zendoodle some flowers that reminded me of the ones in the kit. And I handmade several of my papers, as well. I was aiming for a small kit, since I want to keep my memory keeping process manageable in my current time allotments (which are very slim). More specific details coming soon about my current memory keeping plans - I promise. But on to the kit!


I've included my Amy Tangerine stitching template that I bought maybe this time last year at a scrapbooking garage sale that I've used maybe once, as well as Heidi Swapp 3x4 templates that I bought several months ago and haven't used at all. The Project Life style cards are from We R Memory Keepers Inked Rose which I thought was beautiful, but I still haven't used. The resist flowers were pulled from another Counterfeit Kit that I had not yet killed to go with the resist that was included in the original kit.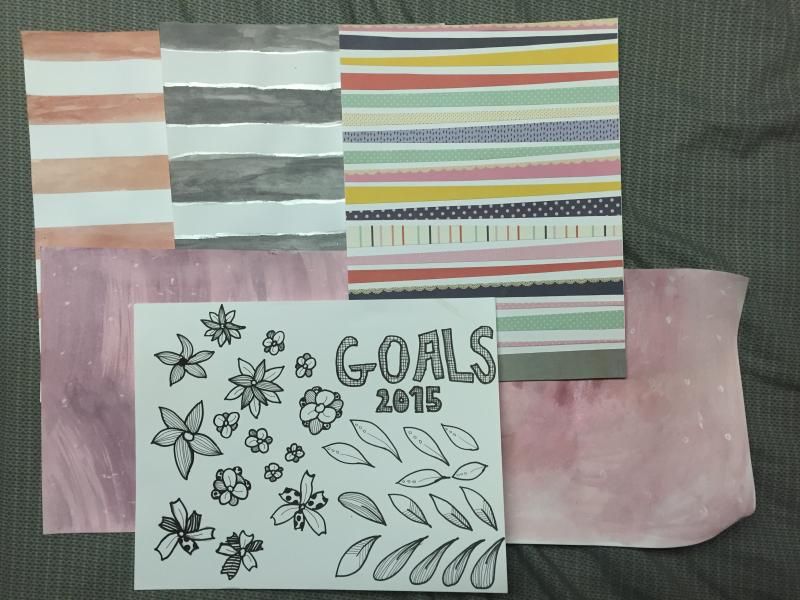 Here are the papers (and embellishments) that I created for this month. The two top left papers with simple watercolor stripes. The top right paper was created from scraps and a piece from one of the Michael's packs that I cut to be similar to the one in the original Hip Kit. The two pieces on the bottom are my take on the Amy Tangerine pink paper in the original kit. Finally, my zendoodled flowers and leaves were inspired by the flowers in the original kit. The lettering (Goals) is my take on the really cool alpha that was in the original kit. I've made most of my titles this month the same way, because I really liked the look of the alpha.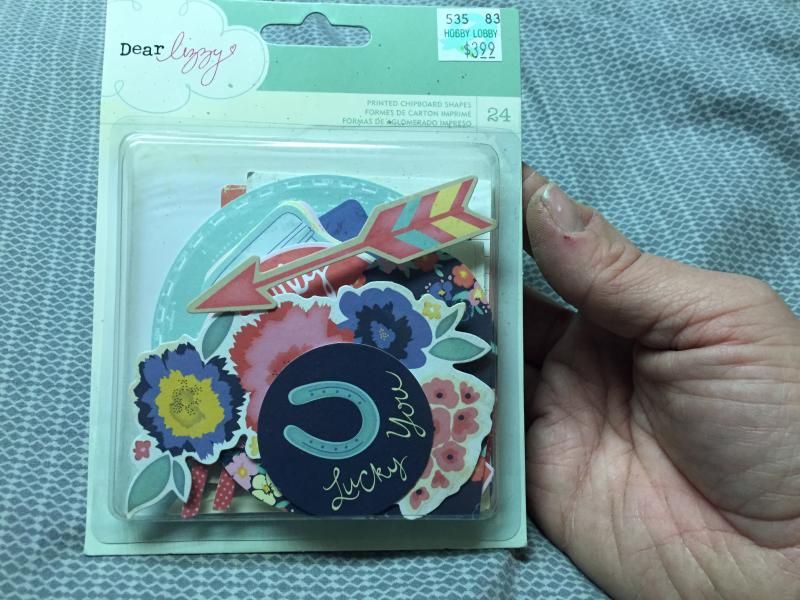 For embellishments I included this Dear Lizzy diecut pack, which I believe is from Lucky You or Charmed something. I cannot remember the name of that collection and the packaging doesn't say. I also included the Distress Stain that was in the original kit, as well as some stamps, and Memento Ink in a bright pink (Rose Bud).
So that's it. That's my kit for January! For more information on my past Counterfeit Kits and projects, check out my
Counterfeit Kit Club
section. And don't forget to check back later in the week for the stuff I've made so far with my January Counterfeit Kit!