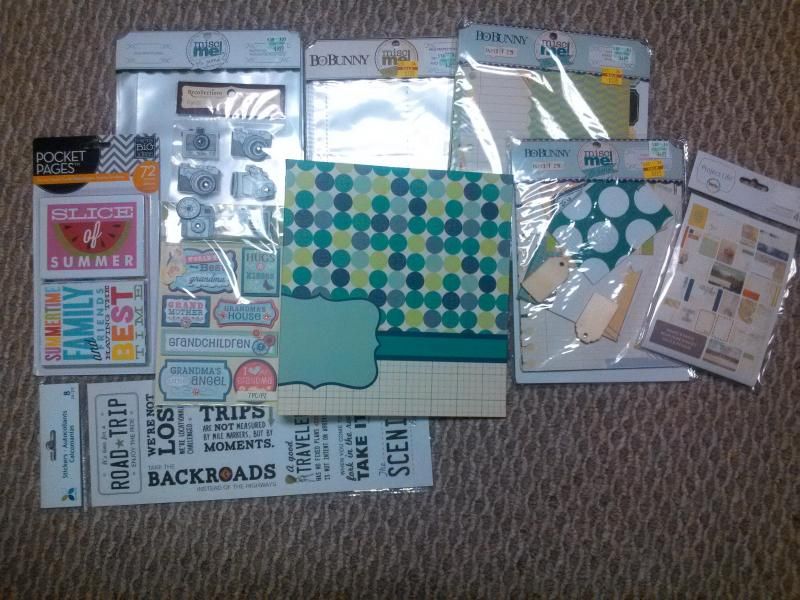 I'm really late on getting this post up. Please forgive me :) My husband was in the hospital for most of August and once he was released, we spent the rest of the month trying to adjust and get him to his appointments.
The August kit for the Counterfeit Kit Club took inspiration from the

S

tudio Calico - Penny Arcade. Now normally, I love Studio Calico kits, but for some reason I'm really not a fan of this one! And I cannot explain exactly why. Maybe its the kind of muted/fallish colors and I'm just not ready for that yet? I don't know. It is a lovely kit, just didn't tickle me like they usually do.
This month, my kit was going to be used for my travel album for my vacation that is at the end of the month. So the elements have a travel theme and a family theme (since we were going to be visiting family on vacation). However, due to my husband being in the hospital and several surgeries that is no longer happening anytime soon. Nonetheless, the trip will eventually happen (even if its next year), so I figure I'll go ahead and create the mini album and kit despite our present situation (and it gives my mind something to tackle instead of worrrying).
I am also creating a baby-centric kit for my Destash project so stay tuned for that.
Follow Andrea's board August 2014 Counterfeit Kit on Pinterest.
This month I have showcased my kit through Pinterest again, because my husband had the tablet at the hospital so no video again! I created the Pinterest board with all of the items that I could find (some of the items in my kit are too old to find on Pinterest). As well as through Scrapbook.com and A Cherry on Top, where you can still buy the items if they take your fancy.
I focused on counterfeiting the Project Life Kit for Penny Arcade. Here's what I ended up with:
Mini Album -
*BoBunny - Misc Me - Family Is - Album

*BoBunny - Misc Me - Family Is - Dividers
Project Life Cards -
*BoBunny - Misc Me - Family Is Contents

*Becky Higgins - Travel - Mini Kit

MAMBI - Pocket Pages Cards - Summertime
*Heidi Swapp Stencil Mini Kit - Patterns

2 Wood Veneer Tags

*Studio Calico - Snippets - 12 x 12 Sticker Sheet

*K & Company - Dimensional Stickers - Grandma Themed

*Recollections - Dimensional Stickers - Cameras

*Momenta - Travel Stickers
Paper -
Echo Park - Today's Story by Allison Kreft - Adventure

*Studio Calico - Snippets - Holla

*Studio Calico - Snippets - Howdy

*Studio Calico - Snippets - Stop

*Studio Calico - Snippets - Hey

Simple Stories - SN@P Bingo Cards

*Studio Calico - Magical - Holiday Parquet

Amy Tangerine - Yes, Please - Thoughtful

*A Selection of 8.5 x 11 Amy Tangerine and Dear Lizzy Papers that came in a huge $5 Michaels Super Buy Pack

Paper House - North/South Americas Map
* means that it is a new product that I have purchased (since March, 2014) and have not used yet.
So this month, it's actually a fairly small kit. But that's because its for just one project I am hoping to work on this month. Thanks for checking out my kit, and stay tuned for the September Counterfeit Kit, as well as my progress on Atizle's baby book.