project life
January Project Life Layouts
9:45 PM
I am happy to say that I am currently caught up on my Project Life for 2014.  Woot!  I love this project.  I am using Design A style pocket ...
I am happy to say that I am currently caught up on my Project Life for 2014. Woot! I love this project. I am using Design A style pocket pages, however, I am intermixing 12 x 12 layouts throughout when I feel the photographs really deserve their own page (more on that later in the month).

I am also allowing the number of pictures and journaling needed to dictate whether the week deserves one page or two. I'm trying to keep very loose and flexible with this project. I am also using products and papers predominately from the kit that I created for my January Counterfeit Kit.


During Week 1, we went to my nephew's to give him his birthday gifts, because weather and illness kept us from doing so on his birthday. I've also include my Thursday Three journaling and photo, as well as my lunch. Since my weeks are running from Monday to Sunday, the first week was a relatively short week and there weren't too many photos. The journaling cards are a mix of Crate Paper and Becky Higgins Winter Edition. The embellishments come from a KI sticker sheet and the bubble epoxy letters are from Bubble-a-bilities (or something like that - they are part of the January Counterfeit Kit - check that post to find all the details about my supplies).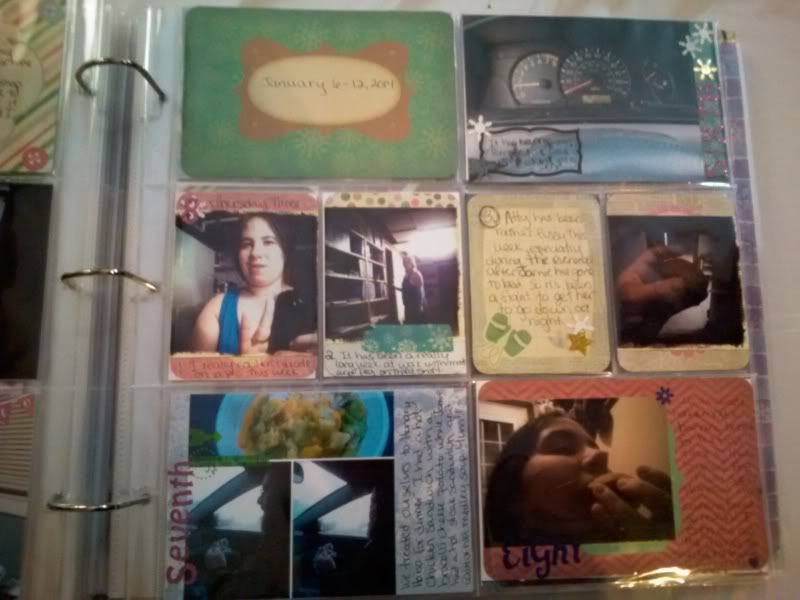 Week Two was one of our super cold weeks this month with temperatures reaching -15 degrees F. I also had some issues deciding on a Thurday Three photo. Supplies include more of the journaling cards by Crate Paper and Becky Higgins - Winter Edition, KI letter stickers, some gold star stickers from my stash, some snowflake washi tape, and some Paper Studio snowflake paper to mat the bottom left collage of photos.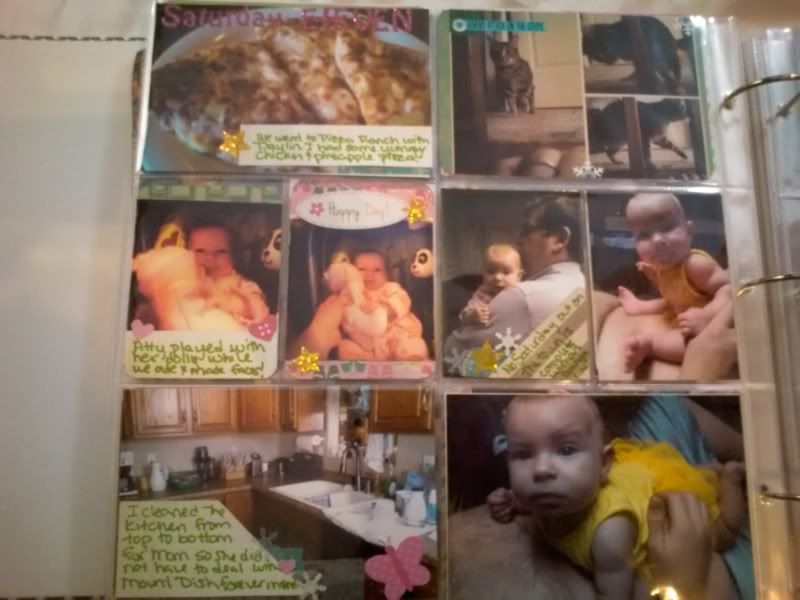 Also during week two we went and treated Jamie's daughter to Pizza Ranch and I got my favorite pizza - Chicken and Pineapple - yum! I included some pictures of one of the cats playing on top of the stairs, Atty playing with her dolly, her daddy, and her grandpa! Supplies on this page include some scrap pieces of paper, KI embellishment stickers, snowflake punches, and more of those gold stars.
Week Three was also two pocket pages. This first page is Thursday Three photos of Atty and Me, more snow, and we caught a cat cuddling with Atty in the crib. Supplies used are scrap paper, snowflake punches, blue glitter letter stickers from KI, black and white sticker embellishments are from KI, and the typed looking letter stickers are from Prima.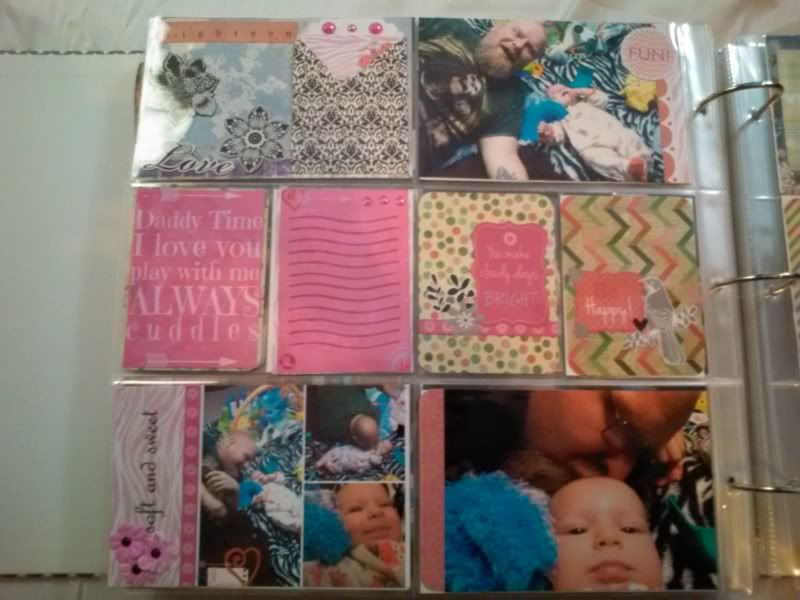 The second page of week 3 is all focused on one day where I got some great pictures of Daddy loving on Atty. I created a subway art type of filler card and a journaling block so he can write his thoughts. Supplies used include a black and white paper bag by Paper Studio, Ki sticker embellishments and a vellum sheet for some of the wording.
Week four was fairly lacking in photos at the beginning of the week, but it ended up on two pages anyway. Most of what happened throughout the week wasn't photographic-able. lol. Let me tell ya, we aren't quite at the stage of being able to photograph Atty eating cereal, since it takes both of us to handle her. Plus I took Shimelle's Return to the Collection class - so my workspace was a mess, but I wasn't going to photograph the layouts that will appear next to this spread (seemed a bit silly). Atty also ate Jello this week and photographs again weren't exactly possible. Supplies used are Crate Paper and Becky Higgins - Winter edition (I really can't tell the difference between these two except one has rounded corners and one doesn't), Ki blue glitter letter stickers, Prima letter stickers, scrap paper, and some journaling blocks from my stash.
The second page really focused on our weekend. It was my weekend off from work so we had lots of playtime and family moments. The top picture is Atty relaxing on her Boppy in her play area. The top right corner is her and Daddy's attack on me from behind. She left a massive drool puddle on top of my head, but I got lots of kisses too :) I also took a picture of the gas total and price when I filled up. And the bottom two photos are Atty playing on Sunday, left one is at home and the right one is at Grandpa and Grandma Bobb's house. Supplies used are Crate Paper and Becky Higgins - Winter Edition Journaling cards, journaling spots from my stash, paper from my January Counterfeit Kit that I pulled from my stash, Prima and Ki lettering stickers, and the last little bit from my Ki diecut sheet.
So that's our January in review. I will probably stick any photos from the next couple days onto my monthly divider - rather than trying to do a whole spread for the 5 days. And the same will probably happen for any photos from this weekend, as it will be the 1st and 2nd of February and in that corresponding section of my album.
I would love to hear what you all think of my pages. And please do share what you've been doing for Project Life this month as well!